When I look back in almost 20 years I am in photography, the most often changed part of my equipment was definitely the backpack. The changes were caused by the growing and shrinking of my gear, by different needs for my trips or discontent with functionality or comfort of some models. Thanks to this experience I finally found the solution which I believe will work for me for many years.
Disclaimer: I am the f-stop brand ambassador now, but I chose the Lotus after thorough testing before our cooperation started.
What I expect from a backpack?
I am not a typical wildlife photographer with many big telephoto lenses (my minimal wildlife set weighs only 2.5 kg), but I still have some needs matching this genre. First, I often walk many kilometers in different conditions and biotopes from rainforests to mountains, so I need a comfortable backpack. It must be durable and it must hold out slipping over rocks, entrapping into thorny lianas, laying in the snow or getting wet. Last, but not least, it needs to be flexible enough to handle various sets of camera gear and non-photographic equipment – I pack different equipment based on the character of the trip and as a Fujifilm x-photographer I test new gear frequently (I traveled with the big Fujinon XF200mF2 lens besides my usual set or with Fujifilm GFX medium format instead of my small X cameras, for example).
My special requirement is to have sufficient space to pack everything into one carry-on bag. I love the minimalist approach, and I started to experiment with it even for my wildlife photography trips.
f-stop Lotus
I chose the 32l f-stop Lotus backpack after long research and testing. It is the smallest model in Mountain series focused on use in the toughest environments. Almost everything I will say about it is valid for bigger models too (the largest one, Shinn, can take impressive 80l of equipment, so even photographers who need plenty of space could find the right backpack here).
f-stop bets on the modularity so their system consists from the backpacks, removable padded inserts for camera gear called ICU (Internal Camera Unit) and other accessories. Selected combination affects, how much of space you reserve for photographic gear and the other equipment. ICUs are zipped and equipped with metal rings so you can carry them separately on the strap, but primarily they fit into the backpacks perfectly. It secures inside via velcro tabs, so they won't move.
You could also use other accessories for smart utilization of internal space like Packing cells which are great for packing your clothing and other stuff and perfectly fits the spaces around ICU, pouches for cables and chargers, filter case or ICU gate which makes a compartment of ICU lockable by zipper.
Internal space
Lotus is a single-compartment 32l backpack. My previous backpack had two compartments, but the fixed dividing failed badly during mentioned the trip to the Svalbard with XF200mmF2 lens – the camera compartment was not large enough to handle all my gear in this situation. With the f-stop modular system, I would just use the bigger ICU. You probably would not buy all ICUs available, but from my experience, two carefully chosen sizes can offer the solution for most needs. You can also use two ICUs together (it depends on their sizes and model of your backpack).
I use two different ICUs: Pro Small and Medium Slope. Both are deep enough for gripped cameras – if you want to save some space, you can go with shallow ICUs. The reason I picked deeper variants even for my small Fujifilm mirrorless system is that they can hold cameras and some lenses in a vertical orientation as you can see on the following photo:
During transfers, packing cells with my clothing and other stuff occupy the rest of the main space. When I am on the spot, I remove the cells and use the space for food, rain jacket, spare clothes, etc.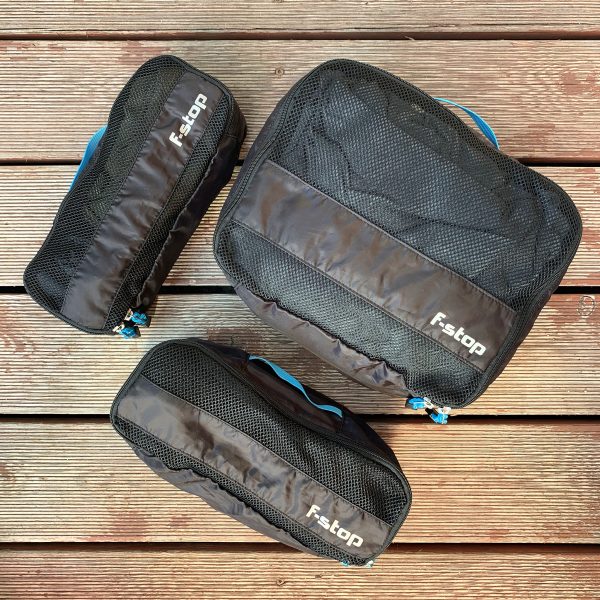 The ICU is accessible via the rear panel. I prefer this design because when I lay the backpack on the ground to access the gear, the back part stays clean and dry. The rest of the main compartment above the ICU is accessible through the top opening which can be fully tilted off so you can easily put in even bigger stuff. Both zippers are massive, and they seem to last forever. There are pull-tabs on all zippers pullers so it is possible to manipulate them even in gloves. I would prefer zippers with only pull-tabs on sliders without pullers to prevent any clinking.
There is a mesh pocket at the bottom of the top opening which is large enough for charger and cables, cleaning stuff, L-bracket or similar things. You must not forget to lock its zipper – otherwise, you spill the content when you full tilt off the backpack's opening.
There are two more pockets inside the main compartment: the flat zipped pocket on the rear panel perfect for the passport or other documents, and internal sleeve, which fits 13" laptop or tablet or it can also be used it for a hydration bladder (the backpack has the tube port). It is worth mentioning that the rear panel is equipped with MOLLE system from the inside.
External pockets
The Lotus backpack offers a lot of external pockets too. There is the zipped pocket on the upper side of the backpack with mesh divider. It can easily hold lightweight sweatshirt or rain jacket, snack or similar stuff. There is a detachable strap for keys or multifunctional tool.
The side pockets are less typical – many backpacks are equipped with half-open bottle pockets on the sides, but f-stop added more storage space here. Both large pockets are zipped and expandable via velcro straps in the bottom part. I miss a quickly accessible bottle pocket a bit, but I appreciate two more pockets when I need to pack everything into a single backpack. There are other options for hydration after all – you could use hydration bladder or add a bottle pouch to the hip belt. (Update: after few more dozens of kilometers walked, I prefer a hydration bladder – I realized that this is the optimal solution, because it is available without taking off the backpack, and the weight of the water is evenly distributed).
Another storage offers the large front zipped pocket. It is designed to hold an avalanche shovel, which proves the focus on use in harsh conditions. You can use the pocket for another equipment but don't forget, that there is a little draining hole in the bottom side for water from melting snow, so you should not put tiny things into this pocket.
The last external pocket is on the bottom side of the backpack and it is intended primarily for storing the rain cover.
Flexibility of backpack exterior
As I already mentioned, flexibility is important for me and it also applies to the exterior of the backpack. Lotus offers wide possibilities. I won't use the ability to attach ice axe probably, but I will use shock cords for trekking poles. I appreciate 16 Gatekeeper mounting points for attaching additional equipment like a tent, sleeping bag or snowshoes (or even the snowboard, but it is not my case :). With Gatekeeper straps, you can attach something on top or bottom, on both sides, and the backpack's front. If you would need to use all these possibilities, you probably should buy a larger backpack, but it is OK to attach a lightweight tent to bottom and sleeping bag on the top of the Lotus.
Aside from Gatekeepers, there are more possibilities for attaching other gear. The hip belt offers MOLLE system on both sides so you can mount original and third-party accessories here – for example, the lens cases, top loading camera cases or already mentioned bottle holder. You can attach things to shoulder straps too. They are also equipped with metal D-rings, which can hold a top-loading camera case.
Design and comfort
I started my review with the interior of the Lotus, but there's no doubt that backpack must be well-built and comfortable too. f-stop Mountain backpacks are built from ripstop-nylon combined with polyurethane film Advanta™. Because the ICU protects the camera gear, the backpack itself is not padded, and it is quite light. Reinforced base is completely waterproof, and the same applies to Advanta™ lamination. Nylon top layer is DWR coated, which makes it water-resistant, but you may need to renew this coating with proper treatment after some time. If you plan to use the backpack in strong rain, you may prefer to add another layer of protection with a rain cover (sold separately), but your gear should be safe even without it. I still wait for a first test in heavy rain, but there were no issues in lighter rains. What I already tried is to clean the backpack, and it is easy to remove the dirt. (Update: I have already experienced a bigger downpour, and the material resisted well. The key is to fully close the zippers to the hoods or cover it with a flap. Of course, the raincoat is best for intensive rain).
The rear panel is made from EVA material and there is a lightweight removable aluminum frame around the zipper. This design helps to keep the shape of the backpack. You will find the frame more likely in hiking backpacks than in photographic backpacks, but it makes great sense because thanks to it the backpack behaves similarly on your back independently on the size of the ICU or amount of stuff you carry.
Straps and belts are important for overall comfort. Shoulder straps of Lotus are ergonomically shaped and equipped with load-lifter straps for better stability of the upper part of the backpack. Some sternum straps could be uncomfortable, but the one on Lotus contains the elastic part, and its height is adjustable in the range about 17 cm. Sometimes people are worried about the comfort of the shoulder straps which are not massively padded. I believe that it is caused by underestimating the role of the hip belt – I know that photographers tend to ignore it for the sake of the faster access, but without it, you put an unneeded strain on your shoulders with any backpack. It is recommended to use a hip belt for weights over five kilograms and when it is adjusted correctly, it can hold 2/3 of a total backpack weight!
The hip belt of Lotus is not too thick, but it is wide and padded enough to be comfortable while keeping it compact, which is handy when you travel by plane. The hip's belt buckles orientation allows you to tighten it by pulling to forward, which is a nice detail. The stretch mesh pockets can be used for memory cards or small batteries (Fujifilm NP-W126 tested :) – similar pockets are on shoulder straps too. There are loops to secure protruding ends of the straps – it is surprising, that you can still find the backpacks without it.
Backpack comfort is a subjective thing to some extent, but I am really happy with the Lotus – it keeps the shape, it is very stable on my back even in hard terrain and doesn't restrict me in movement and it is comfortable even for longer hikes.
Lotus appearance
The whole Mountain series pretends nothing, these backpacks are intended for use in the field. They don't look like typical photographic backpacks, especially if you choose another color than the black – other options are orange and green. I chose the green which is convenient for photographing wildlife (but sometimes it is a bit difficult to find the backpack when I put it away :)
Space for improvements
I chose the Lotus after thorough research and testing, which was possible thanks to my friend Jakub Hodáň, thus I have only a few objections. Two of them are related to the sides of the backpack – I would appreciate the bottle pocket here (update: I no longer miss the bottle pocket, the hydration bladder works perfectly for me), and in some situations, it would be nice to have access to camera gear from the side. On the other hand, when I am packing for a trip, I am happy that I can use additional space in side pockets. Yes, I know, my requirements are contradictory sometimes :)
My last objection points to the top lug – it is quite thin and not very comfortable in hand. f-stop offers the velcro handle wrap, but only as a part of Color kit together with Gatekeepers straps and zipper pull tabs in color of the backpack.
Conclusion
With a little exaggeration I can say that when I stopped my quest for universal backpack, I finally found it :) Lotus serves me well, and I use it both as a photographic and hiking backpack, I used it for two weeks long single-backpack wildlife photography trip and I even used it for packing gear for shooting the wedding. As for my gear, I love when things fit together – with Lotus it is true in every sense of the word.
P. S. Despite the versatility of Lotus, for me, there are still two situations for which I would need a different backpack. The first is a longer trek, which would require more equipment, including cooking system and food – in which case I would definitely need a larger backpack. The second case is a backpack for everyday use. Although Lotus is the smallest of the Mountain series, and I use it occasionally as the urban backpack, it is a bigger than I need when I go to town. Therefore, I look for Dalston or Dyota backpacks, and I will certainly get one of them.